To celebrate Steve's upcoming appearance at the home of folk music Cecil Sharp House, in London on Thursday 4 April there's a chance to win a copy of Steve's award-winning album The Reckoning to find out how simply follow this link - competition closes on Sunday so you'll need to hurry! Promoted by the English Folk Dance and Song Society (EFDSS) in association with Songlines.
To read their short interview with Steve click here
HEBDEN BRIDGE FOLK ROOTS is a small venue event, which has grown out of the Trades Club and its experience of being one of the best small venues in the UK over the last 30 years. It seeks to maintain the quality live music of the Trades Club but also expand it to other small venues in the area. Steve has been part of the organizing committee and will be appearing on Friday 9 November with his new trio featuring old pals Keith Warmington (harmonica) and Stuart Gordon (violin) and The Albion Band new line-up. Steve will also be appearing in a Songwriter's Circle event on Saturday 10 November in the afternon. There are lots of exciting things happening over the weekend so be sure to get you tickets soon – individual event tickets also available. For more information and box office see the website here.
Unfortunately Dana & Susan Robinson have had to cancel their upcoming UK tour; luckily the Steve Tilston Trio has been able to step in and cover one of the shows for them and will be performing at the afternoon concert at Helmsley Folk Weekend on Sunday 30 September. Dana had an accident, shattering bones in his wrist and can't play his instruments, and is really devastated not to be coming to the UK this year. We  would like to wish Dana a speedy recovery and look forward to catching up with Dana & Susan in 2013. 
Following a sold out show at Hay festival, broadcaster and champion of world music Andy Kershaw discusses his memoirs with Fergal Keane, and special musical guest Steve Tilson, at the Queen Elizabeth Hall at London's South Bank tomorrow – Friday 6 July. Find out more here
You may be aware that musician Johnny Dickinson is seriously ill, following treatment for a type of blood cancer, Johnny has developed a rare condition called Guillain Barre Syndrome and is likely to be in intensive care for many months.  A number of fellow musicians have come together to produce a fundraising album to help out Johnny and his family in this difficult time.  The album featuring tracks by Johnny, Wizz Jones, Clive Carroll, Tommy Emmanuel, John Renbourn and others, can be downloaded here for only £5.  We wish Johnny well and hope for his speedy recovery.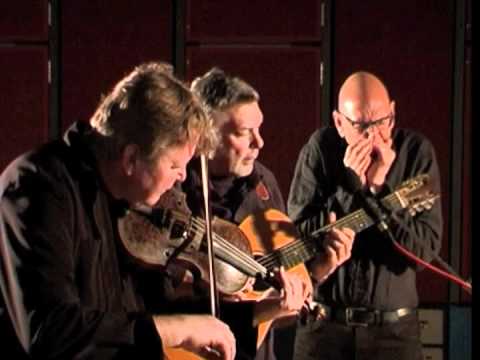 Steve Tilston Trio with Keith Warmington (harmonica) & Stuart Gordon (violin) recorded at the Christchurch Studios in Bristol recently. See them in the flesh this Sunday at the Colston Hall in Bristol – more details here
On Sunday 10 June, Steve returns to perform at the Colston Hall in Bristol, the city that for many reasons has played a major part in his life.  It was here that Steve recorded his first album An Acoustic Confusion on the fledgling Village Thing label, he wrote some of his best-loved songs whilst living in the city and it's 15th century Bristol that provides much of the backdrop for his first novel All for Poor Jack.  His input into the Bristol music scene is detailed in the Bristol Folk book too.  
He'll be joined by Bristol music scene stalwarts and old pals, harmonica maestro (and popular Radio Bristol presenter) Keith Warmington and violin virtuoso (and sought after composer/producer) Stuart Gordon… expect something fabulous. Find out more and buy tickets here.
Last week Maggie Boyle visited Steve Tilston as part of her Kitchen Songs project, where she's joining various songwriters in their own kitchens (sometimes in hers) and over tea and cake reminisces about the old days, a musical career, songwriting, and all sorts of other things. You can see and hear the results here including Steve's kitchen renditions of Normandy Day, The Road When I Was Young, and The Night Owl where Maggie takes the vocals.
It's an interesting concept, other songwriters already interviewed include Mike Silver and Pete Morton and there are more still to come with some interesting and surprising stories to tell.
If you weren't at home for last night's Songwriters' Circle broadcast you can watch it on iplayer on-line here and on your TV for those with on-demand service.
It's also due to be repeated on TV 24 March at 01:30.
The 5-track recording Steve made with The Durbervilles – The Oxenhope EP (on Splid Records) – is officially released today. It's already caught the ear of Mike Harding "…is in my humble opinion a cracking CD…" and the folk media "…a shot of northern entanglement that can't help but raise a smile." fROOTS.
Purchase your copy here